Dec. 17th, 2017: CPU Jiangning Campus Auditorium witnessed the 17th CPU DramStar English Drama Festival organized by the Youth League, the Student Affairs Office, Academic Affairs Office, Office of International Exchange & Cooperation and Foreign Languages Department of China Pharmaceutical University.

Secretary of the Communist Youth League Dai Liang, deputy director of the Office of Student Affairs Han Shouxing, Sun Tian fromthe Academic AffairsOffice, Qiu Mingming from the Office of International Exchange and Cooperation were invited to the show together with Secretary of the Foreign Languages Department Ji Naiwang and vice-dean of Foreign Languages Department Shi Zhixiang. In addition, some students from Nanjing Medical University School of Foreign Languages participated in this activity.

Five shows stood out through the preliminary round: Dead Poets Society by Class1709102, A Monster Calls by Class 164090, Necklace by co-starred students from School of Sciences and School of Traditional Chinese Pharmaceutical Sciences, The Disguise by foreign students and Button Button by students of English for Pharmacy in Class 2 Grade 2015 from Department of Foreign Languages. In the final, all the teams demonstrated their vitality and imagination with proficient English and wonderful performances.

In the end, Button Buttonwon the first prize; The Disguise and Necklace got the second prize; Dead Poets Society and A Monster Calls received the third prize. Zhu Hengyi and Chen Shuxian were awarded Best Actor and Best Actress, respectively.

The annual CPU DramStarEnglish Drama Festival, which has been successfully held for seventeen years, is one of the featured activities of China Pharmaceutical University.It provides a good platform for students to comprehensively improve their English abilities and adds much to the beautiful cultural atmosphereof the school.
(Mao Fanghua, Zhang Honghua)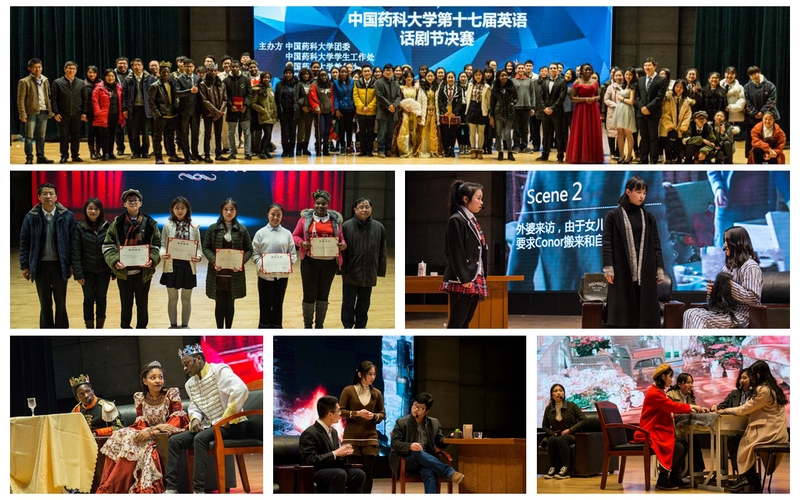 Photographed by: CPU Photography Association